Advanced Proficiency Diode Laser Course 23/10-1/12
2018-10-23 - 2018-12-01 Wydarzenia
Università Cattolica del Sacro Cuore
Facoltà di Medicina e Chirurgia "Agostino Gemelli"
Istituto di CLINICA ODONTOIATRIA
Direttore: Prof. MASSIMO CORDARO
Advanced Proficiency Diode Laser certification
23/10 or 24/10/2018 PRACTICAL MODULE 1 (one day at choice only)
25 – 27/10/2018 THEORY MODULE 1
27/11 or 28/11 PRACTICAL MODULE 2 (one day at choice only)
29/11  – 1/12/2018 THEORY MODULE 2
Course Director: Prof. Massimo Cordaro
Scientific Coordinators: Prof. Vasiliso Kaitsas and Prof. Giovanni Olivi
Didactic Coordinators: Prof. Luca Marigo and Dr. Raffaella Castagnola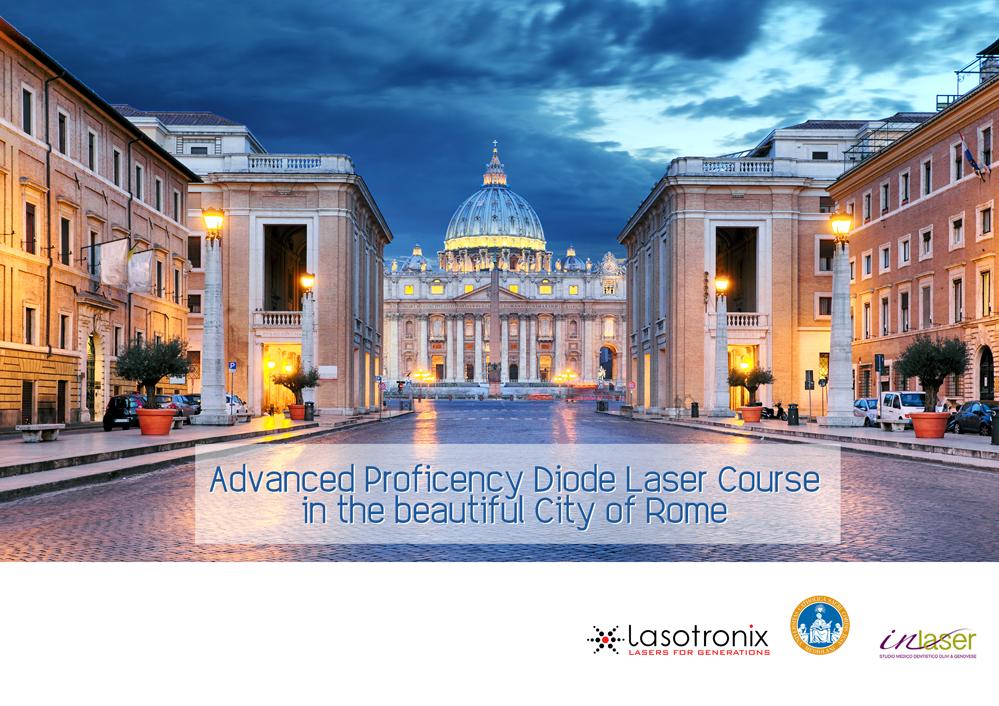 Course attendees:
The course aimed at graduated in dentistry, in medicine and surgery and specialized in Dentistry and Cranio-Facial Surgery). The course will be held in English.
How the course is organized:
The course is divided into 2 modules and each module is 3 days long for a total length of 30 hours of in-person taught lessons and practical activities using extracted teeth and animal models. Practical activities will also be carried out in the dental chair under the supervision of the tutors.
Faculty Principals:
Course dates:
The course will be held in 2018:
23/10 or 24/10/2018 PRACTICAL MODULE 1 (one day at choice only)
25 – 27/10/2018 THEORY MODULE 1
27/11/ or 28/11 PRACTICAL MODULE 2 (one day at choice only)
29/11 – 1/12/2018 THEORY MODULE 2
2 days before theoretical part (of each module) there will be practical part in groups of people up to 7. Before each module groups will spend one day in inLaser Studio. To find out about location follow this link: https://www.inlaser.it/en/3654-2/
Course outline:
Dates and topics that will be covered during the course:
25 - 27 October 2018
Module 1:
Review of laser physics applied to laser dentistry. Applications of the laser in Dentistry. Diode lasers in the electromagnetic spectrum of the light. Laser operative mode: cw, gated mode, time on, time off; free running pulsed mode. Preparation of the fiber tip; cutting, activation and cleaning of the laser tip/fiber.
Application of diode laser in Restorative dentistry: teeth anatomy and ultrastructure. Dentin decontamination; Enamel/Dentin irradiation for tooth desensitization. Pulp therapy: pulpectomy/tomy, pulp decontamination and coagulation.
Application of diode laser in Endodontics: Conventional Laser Endodontics (CLE), aPAD (Photo Activated Disinfection), Laser Activated Disinfection (LAI). Teeth anatomy and ultrastructure. Access cavity preparation; orifice preflaring and glide path preparation; root canal preparation; irrigants and irrigation systems. Diode laser applications in Endodontics: direct laser irradiation in dry and wet mode; photoactivated disinfection.
Hands on: root canal shaping, root canal cleaning and disinfection, root canal obturation on extracted teeth.
27 November - 1 December 2018
Module 2:
Oral Pathology: diagnosis and conventional treatments. Applications of diode lasers in Oral Pathology.
Periodontics: diagnosis and conventional treatments. Applications of diode lasers in Periodontics. Near infrared irradiation for decontamination and bleeding control. Red visible irradiation for activation of photosensitizers (aPAD). Red visible irradiation for LLLT.
Mucogingival surgery: diode lasers for gingivectomy, gingivoplasty, frenectomy, lingual frenum release.
Implantology: second stage surgery, gingival modeling; red laser irradiation of photosensitizers for disinfection in periimplantitis.
Low-Level Laser Therapy (LLLT)
Hands on: laser gingivectomy, frenectomy on the animal model.
Thesis Dissertation: clinical case or literature review presentation
Closing ceremony and diploma awarding
Course enrollment:
A maximum of 15 to 30 candidates - with the required prerequisites - will be accepted on the course and will be enrolled in the same order as received bookings.
A passing score on the final assessment and at least 90% of the course hours must be completed in order to receive the ECMs.
Course fee:
There is a possibility to sign in just for theoretical part (option 1).
Option 1
University module (theoretical part) only:
2.700 EUR - for those who will complete registration before 30th of May
2.900 EUR - regular price
Option 2
Theoretical part (in the University) and the practical part (in the inLaser clinique):
2.700 EUR (theoretical part) + 1.200 EUR (practical part) which makes a total of 3.900 EUR - for those who will complete registration before 30th of May
2.900 EUR (theoretical part) + 1.300 EUR (practical part) which makes a total of 4,200.00 EUR
The fee should be paid into Lasotronix bank account.
All prices are quoted net.
The fee for the entire course is 4,200.00 EUR which covers course materials and administrative costs. 
For those who will complete registration before 30th of May, the total cost will be lower (3,900.00 EUR). 
No refunds will be granted. Enrollment must be completed before 30th of June. 
The application form is included on the last page of this document. Please fill all details and send to biuro@lasotronix.pl.
Registration and payment deadline: 30 June 2018
Payment details:
Payment is to be made on receipt of confirmation of enrolment via bank wire transfer to the following EUR account: PL 44 1750 0009 0000 0000 1283 8417. Bank: Raiffeisen Bank Polska, SWIFT: RCBWPLPW; 20 Piekna St, 00-549 Warsaw, Poland
Beneficiary: Lasotronix Marcin Pokora, 05-500 Piaseczno, 1 Zytnia Street
Diploma title:
On completion of the course, those who have successfully completed the final assessment task and evaluation of their knowledge and competence level, according to act no. 341/1990, a Diploma in Advanced Proficiency in Diode Laser will be granted.
The ECM is in the process of accreditation.
The Catholic University of SacredHearth (Università Cattolica del Sacro Cuore) reserves the right to not proceed with or to cancel the course if an insufficient number or enrollments are reached in order to cover the course costs.
Please find attached file to get more detailed information eg Application Form. 
Pliki
Powrót